On 28th April Latvian Parliament Chairwoman Solvita Aboltina during her regional tour visited VALPRO Ltd.
During the visit at VALPRO Ltd. S. Aboltina had a meeting with company representatives Aivars Flemings and Ugis Berzins. Involved sides were discussing aspects related to manufacture and issues concerning export, field economic and regional development.
S.Aboltina had meeting with Vamiera City Council chairman Inesis Bokis and members of municipality. At the evening S.Aboltina visited Vidzeme Olympic Sport Center to follow the ice-hockey game between Parliament Saeima and Vamiera City Council teams.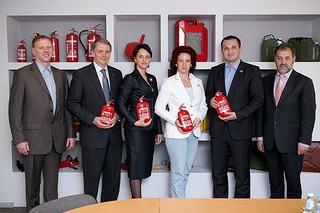 VALPRO Ltd. board member Ugus Berzins (from the left), Vamiera City Council chairman Inesis Boķis, S.Aboltinas bureau manager Gunda Reire, Saeima chairwoman Solvita Aboltina, Saeima deputy Romans Naudins un VALPRO Ltd. chairman Aivars Flemings.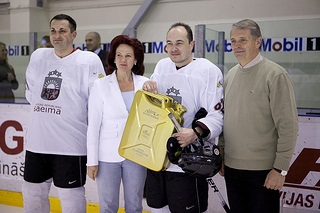 After ice-hockey game. Romans Naudins (from the left), Solvita Aboltina, Imants Paradnieks un Inesis Bokis.
Photo: Ernests Dinka