Latvian national team gained 13th place at VIII World championship in fire and rescue sport. Belarus national team won gold medals, Russian team gained 2nd place leaving Czech team at 3rd place.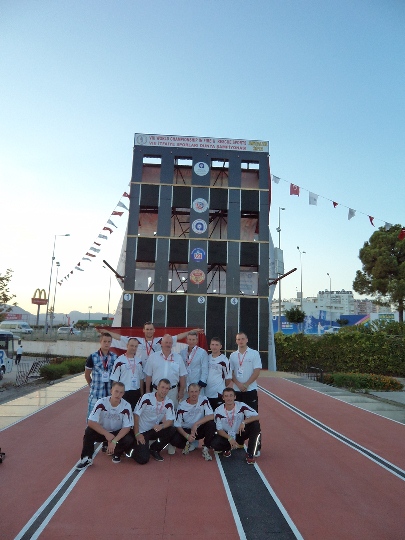 Latvian national team. Photo: VUGD archive
World championship medals were set for four fire sport disciplines – 100m obstacle race, climbing with hook stairs to 4th floor, 4x100m relay race and expansion of the motor pump.
100m obstacle race golden medal was received by Czech representative Jakubs Pekni with a result 15.12 sec. The best result of Latvian team was gained by Vitalijs Zagorskis which completed distance within 16.92 sec. In relay race Latvian team performed 62.58 sec. result that way reaching 11th place in the range. Russian team showed impressive start and become race leaders with result 54.23 sec.
Latvian Interior minister Rihards Kozlovskis, VUGD chief Oskars Abolins and VALPRO Ltd. chairman of the board Aivars Flemings went to Antalya together with Latvian national team. Latvian representatives had meetings with mayor of Antalya city and local fire and rescue department chief as well as with other representatives of Turkey professional and voluntary fire and rescue community.
Championship took place from 16th to 23rd October at Antalya, Turkey.
VALPRO Ltd. annually supports Latvian national team in fire sport, as well as fire and rescue sport development and recognition in Latvia.
Read more about championship: http://firesports-antalya2012.org/en/