On Thursday, 9th October annual Latvia Chamber of Commerce and Industry (LCCI) Vidzeme region members meeting was held, in which were established Vidzeme entrepreneurs' regional council.
Council main aim and exercises will be connected with Vidzeme region entrepreneurs' interest representation in region and country level.
Following entrepreneurs were elected in the council: "Venden" CEO Aldis Skutans, "Valka melioration" Chairman of the Board Janis Biezais, "VALPRO" Chairman of the Board Aivars Flemings, "V.L.T" Chairman of the Board Pavils Mezals, "Free Wave" CEO Maris Trankalis, "ZAAO" Chairman of the Board Aivars Sirmais, Gulbene area entrepreneur Andris Vejins, Cesis entrepreneur club president Arkadijs Suskins and Aloja region entrepreneur Maris Siktars.
Latvia Republic Economic ministry country secretary deputy Andris Liepins and the State Revenu Service Valmiera clients' service center manager Sarmite Grapena informed about support possibilities for entrepreneurs. In the meeting also participated (LTRK) Chairman of the Board Janis Endzins, who informed about chamber strategy for further years.
Other speeches were held by Valmiera city local government council chairman Inesis Bokis, Gulbene area local government manager Nikolajs Stepanovs, Salacgriva area council manager Dagnis Straubergs, Jaunpiebalga area council chairman Laimis Savejs and Vidzeme University of Applied Sciences lecturer Aigars Andersons.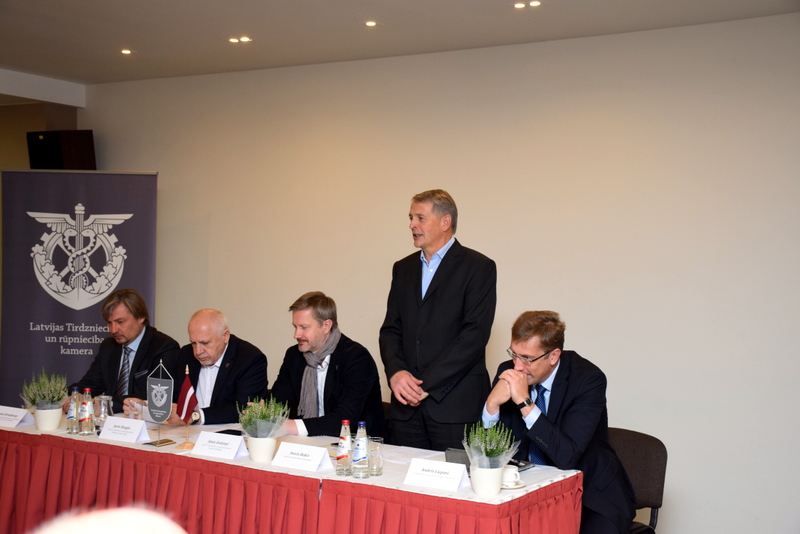 Foto: Valmieras Ziņas