On 7th November VALPRO Ltd. Chairman of the board and mechanical engineering and metal processing manufactory association (MASOC) member of Management Board Aivars Flemings and MASOC chairman of the board Vilnis Rantins had a meeting with LR minister of economics Dana Reizniece – Ozola, to get acquainted, offer insight in metal processors current events, also to determinine priorities for further action.
V. Rantins introduced economic minister with current results in metal processing field, accentuated necessity to support and promote establishment of new companies in the realm, also to provide support for recently already established companies. MASOC chairman of the board talked about "Liepajas meatulrgs" deal and its impact to metal processing field altogether.
A. Flemings and V.Rantins in conversation highlighted many urgent and important questions not only in industry, but in entrepreneurship altogether. There was conversation about possibility repeatedly look through and provide exemption of reinvested profit tax in the law "About company income tax", thus, promoting entrepreneurs to invest profit in the company development – improving the energy efficiency of buildings and in another solutions, which could improve company's performance, results and competitiveness.
There were seen through possibilities for EU the Structural Funds in metalworking and industry context in 2014 – 2020 EU funds planning period, also necessity to focus on the production of high added value products in metal processing.
In the end of meeting A.Flemings and V.Rantins congratulated Dana Reizniece – Ozola with new position and wished luck and persistence in The Ministry of Economic governance.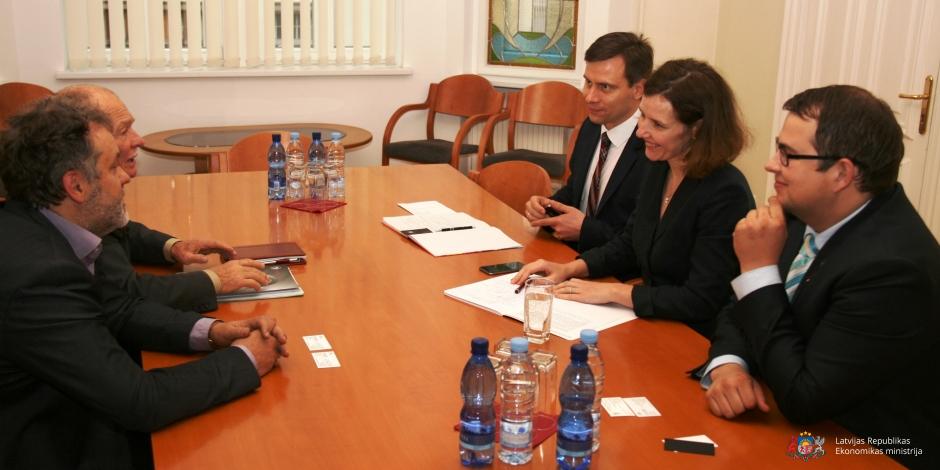 Photo: LR Ministry of Economic publicity photo