From May until the beginning of October regional innovative business ideas contest "Business Express" took place across the whole Latvia. The aim of this contest was to provide the authors of innovative business ideas with knowledge, skills and motivation necessary to develop their business ideas. "Business Express" stopped in five regions in Latvia – Vidzeme, Latgale, Zemgale, Kurzeme and Riga.
VALPRO was one of two strategic partners to the contest. VALPRO representatives participated in the process of evaluating submitted ideas, as well as company's representative participated in each of the five final events as a member of the jury. In each of the regions, VALPRO chose one of the finalists to give them sympathy award in category "industrial manufacturing product".
The recipients of VALPRO sympathy prize:
Vidzeme region – Liena Ivanova with the idea "Women's leather bags "IVA" bags";
Latgale region – Vineta Vaivode and Ieva Vaivode with business ideas "Hemp fabric";
Zemgale region – Zane Bulāne and Ģirts Bulāns with the idea "Led light objects "LAMP"";
Kurzeme region – Edijs Krūmiņš and Inga Jefrēmova with the idea "Curvilinear floor covering";
Riga region – Zanda Vipule and Edmunds Vipulis with the idea "Driving training, using their own simulator".
VALPRO about her experience in the contest jury "I had a great pleasure and pride to participate in the final events of the contest and see how many good and creative ideas have young people. Manufacturing and production of new products certainly are one of the cornerstones of the future of Latvia. I want to thank to always competent and intelligent jury and Valmiera business and innovation incubator for organising this contest at the highest level," the opinion of VALPRO marketing and public relations specialist Krista Mierkalne about her experience being a member of contests jury.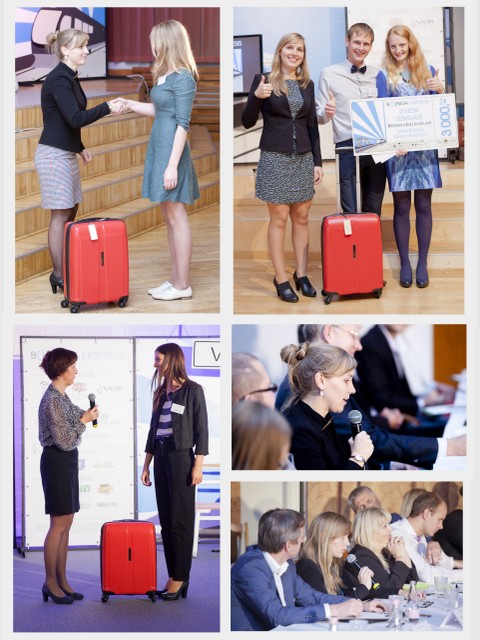 Contest "Business Express" is organised by the Ministry of Environmental Protection and Regional Development, in cooperation with the Norwegian financial instrument and Valmiera business and innovation incubator (VBII). The authors of the best ideas in each region received funding from 2000 to 5000 EUR for implementing their ideas.