On 27th August 2010 during a special event to welcome Top 10 leading exporters in Vidzeme region, the Prime Minister of the Republic of Latvia Mr Valdis Dombrovskis presented a Certificate of Recognition for contribution to the national economic growth and export development to the Chairman of the Board of "Valpro" Ltd. Mr Aivars Flemings.
The Minister of Economics of the Republic of Latvia Mr Artis Kampars congratulated VALPRO Ltd. and presented a Certificate of Appreciation to VALPRO Ltd. for significant achievements in export sales in 2009.
Selection of the leading export companies was based on the achieved export volume in financial terms in 2009, according to data of the Central Statistical Bureau.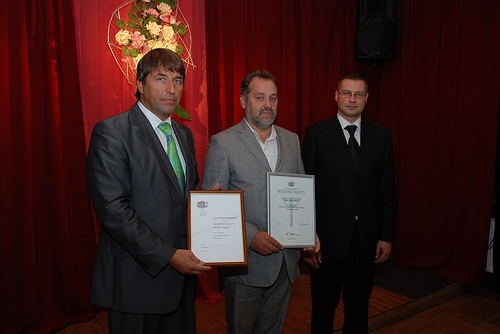 Prime Minister of the Republic of Latvia Valdis Dombrovskis, VALPRO Ltd. Chairman of the board Aivars Flemings (in the centre) and Minister of Economy of Latvia Artis Kampars
Photo: Aivis Freidenfelds