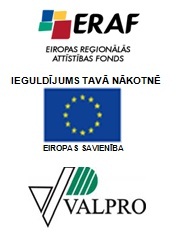 VALPRO Ltd. continues realization of ERAF program "Support for new product implementation in production" project "Metal can with a crew cap implementation in the manufacture" (JPR/2.1.2.2.2//11/02/028)
VALPRO Ltd. plans to introduce new product in the plant manufacture – 5L, 10L and 20L metal cans with a crew cap (UN packaging group designation - 3A2, tank class X). In order to implement project necessary equipment for new product manufacture will be purchased. After project implementation new production manufacture and trade will start in order to raise "VALPRO" Ltd. competitiveness, to acquire new segments for metal cans and improve sales volume.
Until January 2012 "VALPRO" Ltd. has received all eight systems and equipment needed for project implementation. Total project investment until 01.01.2012. is LVL 268 135.60, out of witch eligible costs are LVL 219 433.28.